This fall, I had the opportunity to attend the TED Climate Countdown in Edinburgh, where I learned about ideas and solutions that give me hope. There is a pathway towards the better of the possible climate outcomes, but it's narrow and we need to get on it right now.
We know that warming will reach 1.5°C within the next 20 years. Right now, we have the opportunity to write the rest of the story. A wide array of possible futures remain open, and technological developments will continue to open up new possibilities. While there are no silver bullets or easy solutions, there is a realistic pathway to a future in which warming stops at 1.5C and actually drops down to 1.4C by the end of the century. 
Here's the thing: current models all assume that nature will continue to absorb as much carbon as it does. That's not guaranteed. Protecting and restoring nature is an important part of the solution—nature holds the potential to draw down about 30 percent of accumulated global carbon emissions. Restor makes it possible for anyone with an internet connection to participate in and track restoration projects around the world (including our own backyards).
The LEAF coalition, led by environmental economist and TED speaker Nat Keohane, makes it more financially rewarding to protect forests than to cut them down. Their programs involve all key stakeholders, including Indigenous peoples and local communities, who are currently experiencing the climate crisis in a way that is totally disproportionate to their contributions to it.
The opportunity in front of us is the greatest one humanity might ever face: truly addressing the climate crisis could create 25 million new jobs and create more equitable societies. Inaction, on the other hand, will create more deeply entrenched inequalities. Systems thinking is the key to ensuring that climate solutions address the injustice that brought us here. 
At the Countdown, Earth4All, a new initiative anyone who's interested can get involved with, ran a systems thinking workshop that allowed us to explore pathways towards creating a safe and just future for everyone. 
We can no longer afford to be linear in our systems or in our thinking. In my own organization, that happens in a tangible way: rather than perpetuating the linear model of using things once and throwing them away, we make it possible for our customers to participate in the circular economy. But on a more abstract level, by changing our thinking, we change the possibilities.
As the artist REEPSONE took the stage on the last day of the countdown, he told us to "open our minds." Using only the power of the human voice, he created a sound unlike anything I've ever heard. What we believe is possible represents a very small percentage of the field of what's actually possible, and for a few minutes, I got to experience that truth through his work. 
Addressing the climate crisis brings up a lot of fear. Being part of solutions can be uncomfortable, because it often forces us to address the ways we've unintentionally contributed to the problem. But, there is joy in solutions. We can (we have to) forgive ourselves for participating in the systems we inherited and commit to doing better. And, as each of us looks at the unique ways we're suited to help and takes responsibility to do what we can, we'll see just what humanity is capable of. 
—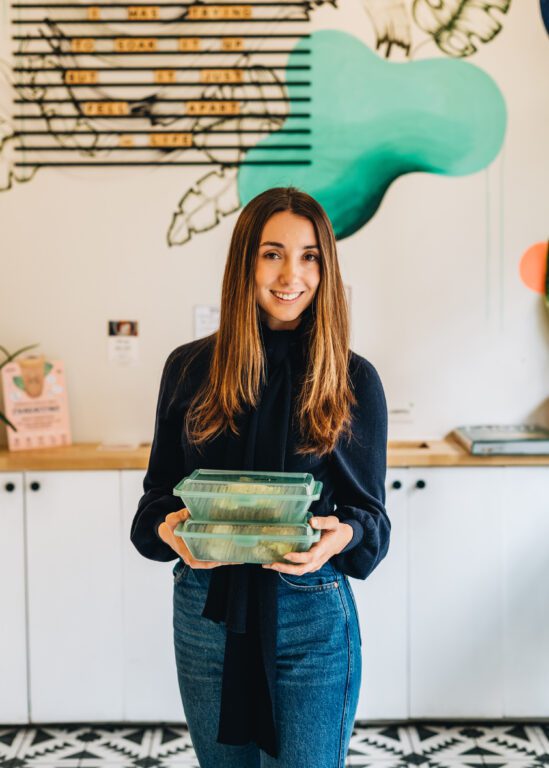 Lauren Sweeney co-founded DeliverZero, a network of reusable containers that makes it easy for customers to order takeout and delivery in returnable reusable packaging. As CMO at DeliverZero, she brings a community-first approach to marketing. Through the connection she's built with DeliverZero customers, Lauren regularly shares education on the links between climate change and waste, with a heavy dose of climate optimism. She believes that truly addressing the climate crisis will bring out the best in humanity and create a more equitable world. She lives in New York City with her daughter and practices kundalini yoga whenever she can.