Misha Patel is a UK-based yoga guide on Wanderlust TV, teaching weekly Slow Flow and Restorative Yoga classes from November 2021. Click here to practice with Misha. 
---
Tell us your yoga story – what inspired you to step on the mat and then eventually become a teacher?
Misha: I realized I wanted to teach when my practice started opening and releasing things mentally. This was back in 2014 when I got into Ashtanga. I was initially drawn to the physicality of Ashtanga yoga, before learning more about the eight limbs of the practice and digging deeper into the core texts.
I wanted to share what yoga truly means – it is living the practice off the mat. My biggest inspiration came when I was on a yoga retreat. I remember being on a plane home and looking out the window and thinking: "this is what I really want to do!"
Some of the core philosophical aspects of yoga were part of my childhood – we learned about yamas, niyamas, maya and studied the Gita in my temple. I want to share the traditional practices and philosophy of yoga in the Western world, where it can sometimes come across as a practice for only able-bodied, flexible people.
Your new Wanderlust TV classes – Slow and Restorative Yoga – are focused on gentle movement, yin-inspired asanas and soothing flows. How can one feel a sense of progress when taking restorative yoga? Or is it about letting go of the progress itself?
Misha: I truly believe progress isn't linear, especially in any yoga practice. The practice does the work, we simply need to show up, observe, breathe and be aware in a restorative class. It's all about letting go of the expectations or results and dropping into a rest-and-digest place, the parasympathetic nervous system.
Sometimes letting go is really hard, but I always say if we can't quite let go, simply let things be. Accept the practice for what it is in the moment, then let it go. When we feel we are able to reflect on anything that comes up and be thankful for the experience, we have progressed.
What is your favorite part about teaching restorative yoga?
Misha: I absolutely love the softness of the practice, especially using props. They don't need to be special yoga props – adding pillows, covering the eyes and maybe even spritzing the room with a nice smell can really help the body to relax. Props are amazing in giving us a chance to drop a little bit deeper into each pose. The more pillows or bolsters and the longer the pose is held, the better.
Could you name teachers or leaders in this space who had the biggest influence on you as a practitioner and as a teacher?
Misha: Anna Ashby and Yvonne O'Garro. Anna led my restorative teacher training and Yvonne was another student with me, she has since been spreading the magic of this practice and made me believe I could go out there and teach it.
What does your personal yoga practice look like?
Misha: I usually take a few times a week to practice in between mummy duties. My son is 6 months old now and he usually joins me at the top of my mat, or on his playmat.
I always start my practice slowly and end with a long savasana. It doesn't have to be a long flow with lots of vinyasa sequence, but it usually involves a few salutations, some dynamic movement and meditation. The most magical part for me personally, is sitting up for a few quiet moments after savasana and just being with myself and my breath.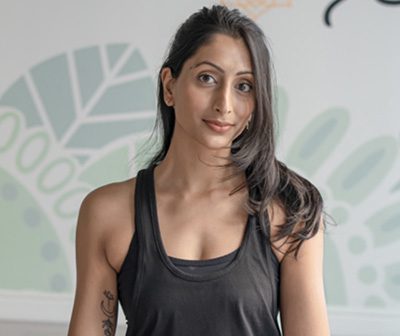 After the first training in 2015, Misha met David Swenson and traveled to Sweden to take an advanced Ashtanga training under his guidance. Diagnosed with a degenerative disc disease just before the training, Misha couldn't push herself like before. However, it is through moments like this that she has learned that yoga is on and off the mat. Her classes often incorporate yogic philosophy, traditional practices and are always structured intelligently with the anatomy of the body in mind.